Saturday 24 September & Saturday 9 October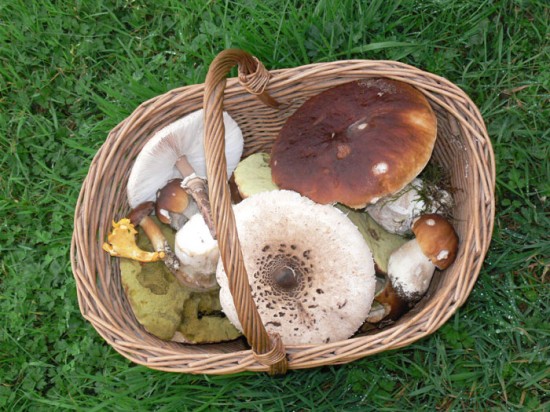 It's a cliché to start with the phrase 'owing to popular demand' but in this case it is actually true. For years I've held out against catering for local would-be mushroomers for the very good reason that I don't want competition. As time has progressed, I have realised my 'special' patches are actually not so special. There are mushrooms everywhere, so why be possessive?

This means I am now going to lay on two affordable (£30 adults, £15 children) one-day courses, aimed at beginners. These will focus on where and when to find edible fungi, how to target the most delicious species, what to avoid, how to preserve and the best way to cook.
The precise details may change according to weather conditions, but each foray should produce a wide range of edible fungi – and plenty of mushrooms for you to take home. A buffet lunch with complimentary alcoholic or soft drink is included and the meal will feature at least two mushroom dishes (there will also be non-mushroom options). Groups will be no more than 20-strong at most. Neither foray will be arduous, but the first will involve a slightly more walking. As a result, the second is more suited to less fit people and children (dogs are also welcome).
To keep prices down, we will use our own vehicles to drive the c. 5 miles to the woods. There will be a minimal amount of off-tarmac driving, although this will be on forestry stone roads. Car sharing is encouraged and drivers who are prepared to give lifts will receive a £5 discount.
Pre-booking is essential and requires a small deposit of £10 per adult, £5 per child. To secure places phone 01597 811168 / 0779 429 4221.
ITINERARY
9.45 am meet in Rhayader
10.15 – 12.45 Foray
1.15 Buffet lunch at Tan-y-Cefn
2 pm Preservation display
2.30 Slide show of mushrooms around the year
3.00 (Optional) uphill foray
4.00 Finish