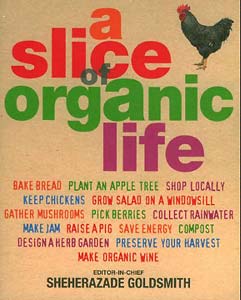 Find your own slice of the 'The Good Life' Bake bread. Start a wormery. Shop locally. Plant a tree. Find out how to get closer to the soil, without going the whole hog. Discover 80 simple, eco projects you can dip in and out of, from growing salad on your window-sill, to collecting rainwater.
Pick up what you need using the directory of useful organic stockists and websites, then choose a project to suit your pocket and lifestyle. You don't need a garden, special equipment, or even much time. Edited by Sheherazade Goldsmith, wife of organic spokesman and Ecologist editor, Zac Goldsmith.



A Slice of Organic Life: Get closer to the soil without going the whole hog
Reviews
Great introduction to the subject, 8 Feb 2008
A. Richards "Green bean" (Essex)
This beautifully illustrated volume brings together a whole host of tips and ideas to help to change your lifestyle without becoming overwhelming. You can dip into it at leisure and easily find projects to try out as the book is helpfully divided into sections for people who have no garden, a very small garden area, or a large garden or access to an allotment.
Excellent book – I definitely recommend it!
What a fab book!, 11 Oct 2007
J. Harrison (Folkestone, Kent)
I only got this today and I've browsed through it cover to cover… it's very inspiring and really makes you think about the environment. It's full of little projects whether you have a big garden to no garden at all! My first projects are to get a wormery and a water butt, followed by creating a small veg garden.
It even shows you how to keep chickens, goats, pigs and cows!!