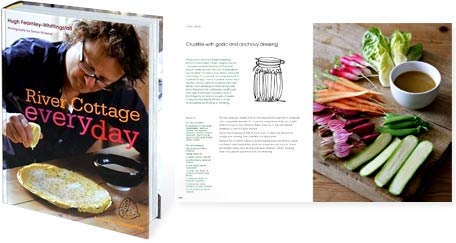 Putting food on the table for the family quickly and economically doesn't mean you have to compromise on quality. This book shows how Hugh's approach to food can be adapted to suit any growing, working family, or busy young singles and couples for that matter. Breakfast, baking, lunchboxes, quick suppers, healthy snacks, eating on the move and weekend cooking for the week ahead – all these, and more, will be covered in River Cottage Every Day.
As Hugh says: "I have honed the River Cottage approach to food over a decade now, and I believe passionately that it is relevant to everybody, every day. You only have to decide that food, and its provenance, matters to you and your family, and the River Cottage way of doing things can offer a whole raft of solutions: food sourcing and shopping strategies, thrifty kitchen tricks and, above all, approachable, delicious, easy recipes."
"This book makes no prior assumptions about where you shop, what you may or may not know about growing vegetables or keeping livestock, or whether you can tell the difference between a cep and a chanterelle. But once you own the book, these things may well begin to matter to you. All you will need to reap the benefit is a commitment to spend at least some time in the kitchen, with fresh ingredients, a few times a week. And if you don't have that at the outset, I believe that a little time spent with this book – perhaps in bed, before you go to sleep – will soon put that right! Above all, I intend to tempt and charm you towards a better life with food – with a set of simply irresistible recipes that just happen to be seasonal and ethical."
Hardcover: 416 pages
Buy now from Amazon UK: River Cottage Everyday
About the Author
Hugh Fearnley-Whittingstall is a writer, broadcaster and campaigner. His series for Channel 4 have earned him a huge popular following, while his River Cottage books have collected multiple awards including the Glenfiddich Trophy (twice), the Andre Simon Food Book of the Year (three times), the Michael Smith Award for Work on British Food award at the Guild of Food Writers and, in the US, the James Beard Cookbook of the Year. Hugh lives in Dorset with his family.